Industries Supplied :
Major car manufacturers,
F1 Racing Teams,
Major clothes stores,
Major heating company,
Health & Safety Suppliers,
Merchandising supply,
Household goods,
Conservatory suppliers,
Construction companies,
Leisure products,
Government departments,
Hire companies,
Snow Sledges,



Specialist vacuum forming services to all industries
5 AXIS CNC MACHINING
IN HOUSE TOOLING AND DESIGN ASSISTANCE
FABRICATION AND WELDING
FORMING MAX SHEET SIZE : 2400mm X 1200mm X 600mm
ALL THERMOFORMABLE PLASTICS PROCESSED

Thermorforming, Vacuum forming, Mouldings, Plastics, for all industries - Plasticity Ltd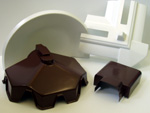 Vacuum forming offers several processing advantages over other forming processes. Unlike other thermoplastic forming processes, where powder or granulate are the starting point, vacuum forming uses extruded plastic sheet.
Our vacuum forming process utilizes sophisticated pneumatic, hydraulic and heat controls thus enabling higher production speeds and more detailed vacuum formed applications.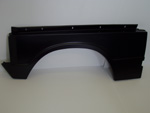 We can produce formings up to 2 x 1 metres, in any thickness up to 10mm, in any extruded material, from any pantone colour swatch. Since the process uses low pressures, the moulds can be made of inexpensive materials and mould fabrication time can be reasonably short. Prototype and low quantity requirements of large parts, as well as medium size runs therefore become economical.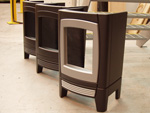 Our in house control system guarantees that before leaving our factory, each and every forming is scrutinised to ensure that it conforms to ISO 9001 standards. This provides both parties with added reassurance. We can provide specification data sheets of all raw materials, ensuring that the relevant specialist material is available for any specialised application, including fire resistance, impact strength, or conductivity.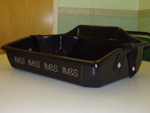 The services we provide can take you from the initial design and development of your product, through to the production of a prototype, approval and then finally into a full production phase.
This gives you the opportunity to produce the products you want, using our expertise and experience, backed up by our excellent reputation for quality and reliability.
We already have a vast experience of manufacturing quality plastic products for many industries, these include: major car manufacturers, F1 racing teams, major clothes stores, major heating company, Health & Safety suppliers, merchandising supply, household goods, conservatory suppliers, construction companies, leisure products, Government departments, hire companies and more.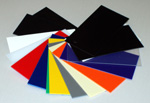 Our large factiory units are based in Chesterfield in Derbyshire, in the UK. Contact us today to find out what we can do to help you with any of your thermoforming, vacuum forming, mouldings, or plastic product requirements. Email: or telephone 01246 456296.